Products
Corrosion is the loss of its metallic properties by entering into a chemical or electrochemical reaction with the environment it is in. In practice; used for cathodic protection of metal structuresin salt water such as offshore platforms, ship hulls, in-tank, underwater pipesand piers. Magnesium anodes are mostly used as galvanic anode in cathodic protection systems. Depending on the protection current requirement and ground resistance, high potential and AZ63 magnesium alloys are used. Galvanic anodes are also called sacrificial anodes.
The production and use of Magnesium Anode is a completely engineering subject. Magnesium anodes; Due to the structural effects of alloying elements, frequent control and spectrographic analyzes are required for each melt. Chemical composition and dispersion are important parameters affecting the anode performance.
It is produced by adding 0.5-1.5 manganese in high potential magnesium anodes. Since 99.95% pure magnesium ingot is required, our company imports materials from abroad.
We issue the products we produce with the Certificate of Analysis. Anode Life Test gives the most accurate information about anode quality. Anodes that are not produced according to TSE certificate have a short life and do not protect the installation.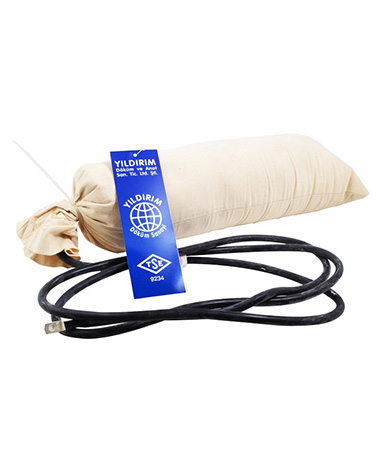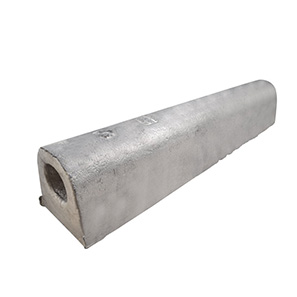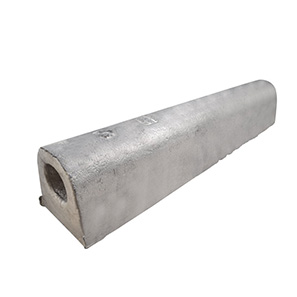 Galvanic anode design calculations
According to the enamel coating and protection current requirement, the anode mass should not be less than 0.2 kg • m-2 of the enamelled surface of the container. Geometric dimensions (width, diameter) and mounting condition of the galvanic anode. After the galvanic anode is put into operation, it must be sized and positioned as necessary to provide a protection period of at least 2 years.
| | | | |
| --- | --- | --- | --- |
| Ma | WEIGHT(%) | High Potential Magnesium Anode AZ63 | High Potential Magnesium Anode AZ63 |
| Element | DIN 12438 | TS 9234 | TS 9234 |
| Aluminum | 0.01 % max | 0.05 % max | 5,3 – 6,7 |
| Zinc | 0.05 % max | 0.03 % max | 2,5 – 3,5 |
| Manganese | 0.5 – 1.3 | 0.5 – 1.5 | 0,25 – 0,40 |
| Silicon | 0.05 % max | 0.05 % max | 0.3 % max |
| Copper | 0.02 % max | 0.02 % max | 0.08 % max |
| Iron | 0.02 % max | 0.03 % max | 0.03 % max |
| Nickel | 0.001 % max | 0.002 % max | 0.003 % max |
| Other Each | 0.05 % max | - | - |
| Magnesium | Remaining | Remaining | Remaining |
| | | | | | |
| --- | --- | --- | --- | --- | --- |
| Anode | M1 - A 2 Lb | M1 - 3,5 Lb | M2 - 6,5Lb | M3 - 11 Lb | M4 - 17 Lb |
| Diameter | 0,907 Kg | 1,658 Kg | 2,948 Kg | 4,989 Kg | 7,711 Kg |
| Ø 24 | 150 m | 260 m | 480 m | 760 m | 1270 m |
| Ø 32 | 110 m | 190 m | 380 m | 600 m | 1000 m |
| Ø 40 | 85 m | 160 m | 300 m | 480 m | 800 m |
| Ø 50 | 70 m | 130 m | 240 m | 380 m | 640 m |
| Ø 65 | 55 m | 100 m | 190 m | 290 m | 490 m |
| Ø 80 | 45 m | 80 m | 150 m | 240 m | 400 m |
| Ø 100 | 40 m | 70 m | 120 m | 190 m | 320 m |
| Ø 125 | 30 m | 50 m | 100 m | 155 m | 250 m |
| PE (polyethylene) 1 anode for 20 years life, mainly for hot-wound pipes | | | | | |